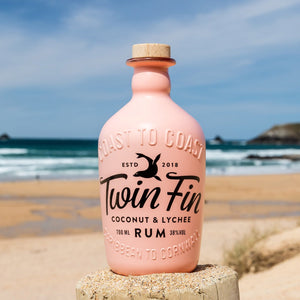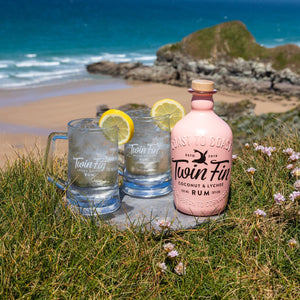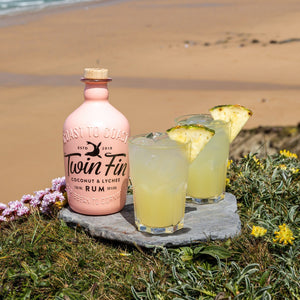 Twin Fin Coconut & Lychee rum
70cl Bottle
38% ABV
CARIBBEAN TO CORNWALL – COAST TO COAST
Twin Fin Coconut and Lychee Rum is bold and bright with beautiful notes of fresh lychee and vibrant coconut. It has a lovely aromatic crisp finish of wild strawberry and melon. Perfect in a Pina Colada for a lively cocktail or with fresh lemonade and lots of ice.
TASTING NOTES
APPEARANCE: Bright and clear like tropical seas
NOSE: Fresh lychee and vibrant coconut
TASTE: Coconut sorbet, wild strawberry, and melon
FINISH: Crisp and tart lychee
70cl - 38% ABV
All prices include delivery.
STORY
PROUDLY BORN IN THE CARIBBEAN, CREATIVELY SPICED ON THE WILD CORNISH COAST

Inspired by the coasts of Cornwall and the Caribbean. Twin Fin begins life on the warm sands of the Caribbean, crossing the Atlantic to land on the rugged coast of Cornwall. The epic result of two years creative experimentation to craft a rum like no other.

Created by Southwestern Distillery near Padstow. Tarquin Leadbetter, the maverick self-taught Master Distiller behind the World's Best Gin – awarded at the San Francisco World Spirits Competition – has combined his experience with distilling botanicals, his love of experimentation and innovation to create a progressive spiced golden rum.

First a secret spice recipe including orange and vanilla is distilled in a flame-fired Cornish copper pot still, then blended with Jamaican pot still rum and a light, column-still rum from the Dominican Republic. Twin Fin is then finished with a touch of Pedro Ximenez sherry for natural balance and rested over charred oak chips for a rich golden warmth.

Twin Fin is both rich and smooth with aromatic spice notes, a touch of exotic citrus and a light smoky finish. Bold in flavour and excellent in cocktails.
DELIVERY
Usually delivered within 5 – 7 working days.
Price includes delivery.