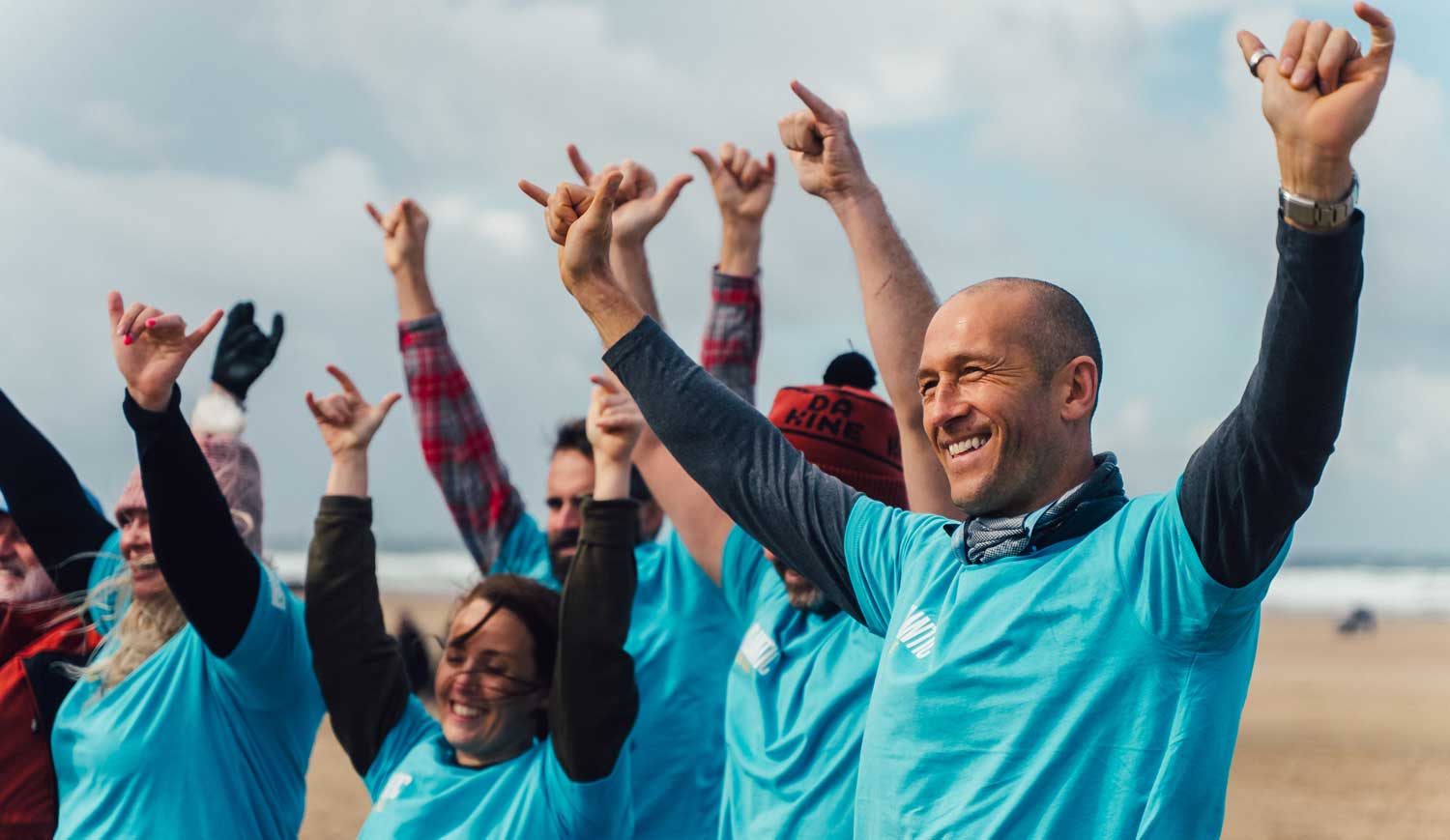 Atlantic Beach Clean
St Ives | Cornwall
Join the team from Sharp's Brewery and Surfers Against Sewage at the Sloop Inn, St. Ives on Saturday 2nd April between 1:00pm – 2.30pm for a beach clean!
Afterwards we will head inside for food and entertainment kindly supplied by the team at the Sloop – not to forget a glass of Atlantic Pale Ale.
Equipment will be provided but feel free to bring your own.
Can't make this clean? Well don't worry, because during 02/04/22 - 10/04/22 we've teamed up with Stonegate and Surfers Against Sewage to provide clean-up pods throughout the South West so you can set out on your very own beach clean. What's better? Visit the Stonegate pub afterwards to claim your complimentary Atlantic Pale Ale* to say a massive thank you from us. 
Be sure to download the Strava App and join the 'Surfers Against Sewage: Million Mile Clean' club to track your miles and redeem your free pint of Atlantic Pale Ale for taking part – available for over 18's only.
Please dispose of any rubbish using local council bins before returning the litter picker and sacks for others to help turn the tide on plastic pollution
*T&Cs Apply: 18+ UK Only. Alcohol cannot be served to anyone under the age of 18 – proof of ID will be requested. Failure to produce authentic ID will lead to refusal of service. Maximum of one free pint can be given out per customer. To redeem free pint of Atlantic Pale Ale, submission of Beach Clean miles must be logged via Strava app. Free pint only redeemable on Atlantic Pale Ale, this may not be substituted for cash value or any other product. This offer may be withdrawn without prior notice. Managers decision is final and binding. Offer available while free stocks last. All information is correct at time of production.
SAS Mandatory Safety Guidelines and Safety Brief for Volunteer Clean Events
Changes as a result of the Coronavirus Pandemic
The below guidance was issued before the start of the Coronavirus Pandemic. Please read through this document, the SAS Coronavirus Beach Clean Guidance and your local government guidelines before organising your event.
At Surfers Against Sewage (SAS) we consider the safety of our volunteers to be of paramount importance. Before each event begins a dynamic risk assessment should be conducted based upon our generic Beach Clean, River Clean and Street Clean risk assessments. The following points should be covered both in preparation for the event and during your safety briefing.


Risk
All volunteers undertake the litter pick at their own risk and SAS are in no way liable for any injury or illness that may be caused or triggered by the Beach Clean. SAS Regional Reps/Volunteer Clean Leaders are to ensure the safety recommendations are briefed and that the risk assessment is made available for participants to view if they wish. The Risk Assessment is a "living document" and does not mitigate all potential risk for each individual clean event; the risk assessment should be dynamically updated where necessary.


Safety Recommendation (Volunteer Clean Leader guidelines)
Children: All children under the age of 18 must be accompanied by a responsible adult. SAS Staff/Regional Reps/Volunteer Clean Leaders provide no child care provision and are in no way accountable for juveniles (or adults) attending the event.
Suitable Clothing: Volunteers should ensure they are wearing suitable clothing and footwear to protect themselves from the meteorological elements of the day to avoid exposure, illnesses or injury.
Gloves: Where possible we ask that Volunteer Clean Leaders provide some form of hand protection for their volunteers and it is strongly advised that volunteers do not handle refuse material without hand protection. If there is likely to be an insufficient amount of hand protection at an event then volunteers should be asked to bring their own form of hand protection prior to the start of the event. SAS are in no way liable for any injury caused by the failure of any form of issued or non-issued hand protection to protect participant's hands which ultimately results in injury or illness.
Sharps Collection: Volunteers must be advised that SAS do not ask that sharp objects (i.e. syringes, broken glass, sharp metals) or unhygienic waste, such as dog poo or sanitary towels be collected during a SAS clean. This decision to touch/pick up such items lies entirely with each individual volunteer. Sharps containers can be requested a minimum of two weeks prior to an event taking place if SAS Staff/Regional Reps/Volunteer Clean Leaders choose at their own risk to collect sharp items.
Tides: Beach cleans should be organised to coincide with an outgoing tide. Volunteers will be made aware of the prevailing tidal conditions during the safety briefing, prior to the start of the event.
Environment: Volunteers should be advised of any hazards that are unique to the area in which the clean is taking place (i.e. slippery rocks, mud flats, high levels of traffic).
Wildlife: The disturbance of wildlife (i.e. nesting sites) should be avoided wherever possible and volunteers should be aware of the negative effects of foot traffic on dune systems. Volunteers should also be advised to avoid contact with any local fauna or flora to minimise the risk of injury through stings, bites and scratches.
Coastguard/Lifeguards: Where applicable it will be the responsibility of the individual event organiser to notify the appropriate authorities of what it is you are doing and make the volunteers aware of the location of the nearest coast guard station or phone where they can raise the alarm and contact the emergency services if an incident were to occur. Each Volunteer Clean Leader must have access to a mobile phone (with signal) or land line.
Emergency Services: All event organisers must ensure they have 2 separate means of raising the emergency services, be it landline access or mobile phone. Volunteer Clean Leaders must also ensure they have a predesigned emergency service rendezvous point. All emergency services including the Lifeguard can be raised using the (999) emergency line.
First Aid Kit: Volunteer beach clean organisers must provide a basic First Aid Kit. All volunteers present at the opening brief should be made aware of the location of the First Aid Kit.


Safety Briefing (All Volunteer Clean Leaders must deliver this briefing to all volunteers)
This safety brief must be given to all participants prior to every beach clean.
All children under the age of 18 (and vulnerable adults) must be accompanied by a responsible adult.
A risk assessment has been undertaken by the Volunteer Clean Leader before the event and is available for any volunteer to view.
Protective gloves provided must be worn at all times during the clean by volunteers.
Ensure all volunteers are aware of the location of a First Aid kit.
In case of emergency, Surfers Against Sewage Staff/Regional Reps/Volunteer Clean Leaders carry a mobile phone or know where a land line is in close proximity, should there be no reception.
;