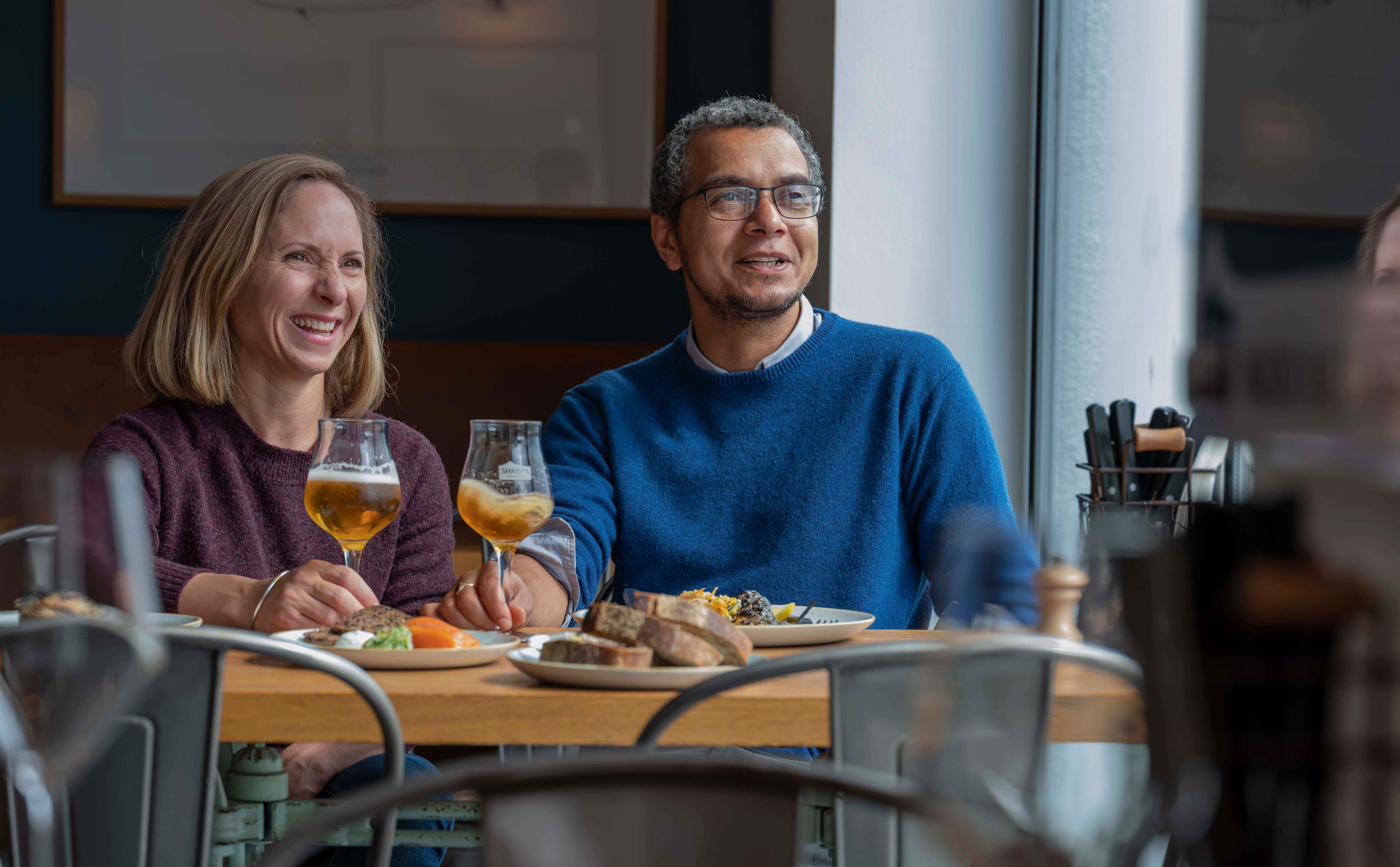 JUST ADD BEER THE PODCAST
PUTTING BEER AND FOOD ON THE MAP
Why is it that so many people know a Rioja from a Riesling, yet hardly anyone knows the difference between ale and lager? And while many of us pair Syrah and steak, or seafood and Sauvignon, when we talk about food and beer it's usually limited to a pie and pint of ale, or a curry and a cooling lager.
Our Just Add Beer Podcast is a collaboration between Sharp's Brewery and a pool of talented chefs, putting beer on the table alongside easy-to-make, lip-smacking recipes. Beer is thousands of years old and we truly believe that there is a beer for every palate, every dish and every occasion – whether you want to throw a fancy dinner party or kick back and watch a sports game with friends. In the same way that photos evoke memories of special occasions, so do certain foods and flavours. Marrying the right food with the right beer, and putting it in the mix with friends and family at birthdays, BBQs and festive occasions, creates unforgettable experiences that spike our senses.

The podcast is hosted by Sharp's in-house beer sommelier and foodie, Ed Hughes,  who'll be joined weekly by some of the finest chefs with roots in Cornwall. It's become Ed's mission to educate and inspire people about the modern, mouth-watering fusion of beer and food. Beer shouldn't be an afterthought. It should be at the heart of any dining experience. So the aim of our podcast, Just Add Beer, is to turn the pint drinking culture on its head, put beer on its rightful pedestal and have you swapping your Pinot for a Pilsner at the dinner table.
"It was working with the incredible Nathan Outlaw that first sparked my interest about how chefs consider ingredients, and how beer and food could work together. I also gleaned inspiration from Tristan Stephenson's encyclopaedic knowledge about spirits and history, and from my beer hero Stuart Howe – former Head Brewer at Sharp's. And so my beer and food journey began. Since then I've been committed to working with chefs, front of house teams and the general public, to raise the profile of beer and promote it as a food match equal to wine.
Now that the general public are more savvy about flavour and quality than they ever have been, it's time to make beer and food matching part of the future of gastronomy. So, grab a pair of headphones, get comfortable and discover the dynamic delights of food and beer."
- Ed Hughes, Sharp's Brewery Beer Sommelier. 

1. Just Add Beer The Podcast
Ft. Michelin star chef, John Walton
In episode 1, Group Executive Chef for Paul Ainsworth, John Walton, tells us about his favourite starter and shares some tips on cooking Mussels with beer.
FIND AN EPISODE
OUR LATEST PODCASTS
;