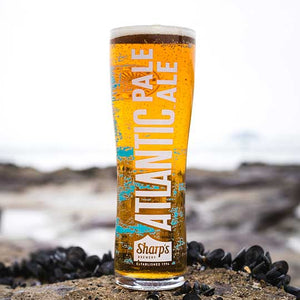 SHARP'S ATLANTIC
2 X BRANDED PINT GLASS (KEG)
To experience Atlantic at it's best, enjoy it from our specially crafted pint glasses designed for our kegged version of this modern pale ale, these glasses will suit the carbonation in our bottled ale too!
Atlantic is a modern pale ale brewed to feature the best attributes of our ingredients. Succulence from two types of malt, tropical and citrus fruits from new world hops.
All prices include delivery. 
STORY
The Atlantic Ocean, dynamic and constantly moving, possesses an energy which has shaped and inspired the way we brew.
Atlantic showcases the citrus aromas and flavours of American hops without the intense bitterness sometimes associated with New World pale ales.
INCLUDED
2 x Atlantic Pint glassware, official merchandise.
DELIVERY
Usually delivered within 5-7 working days.