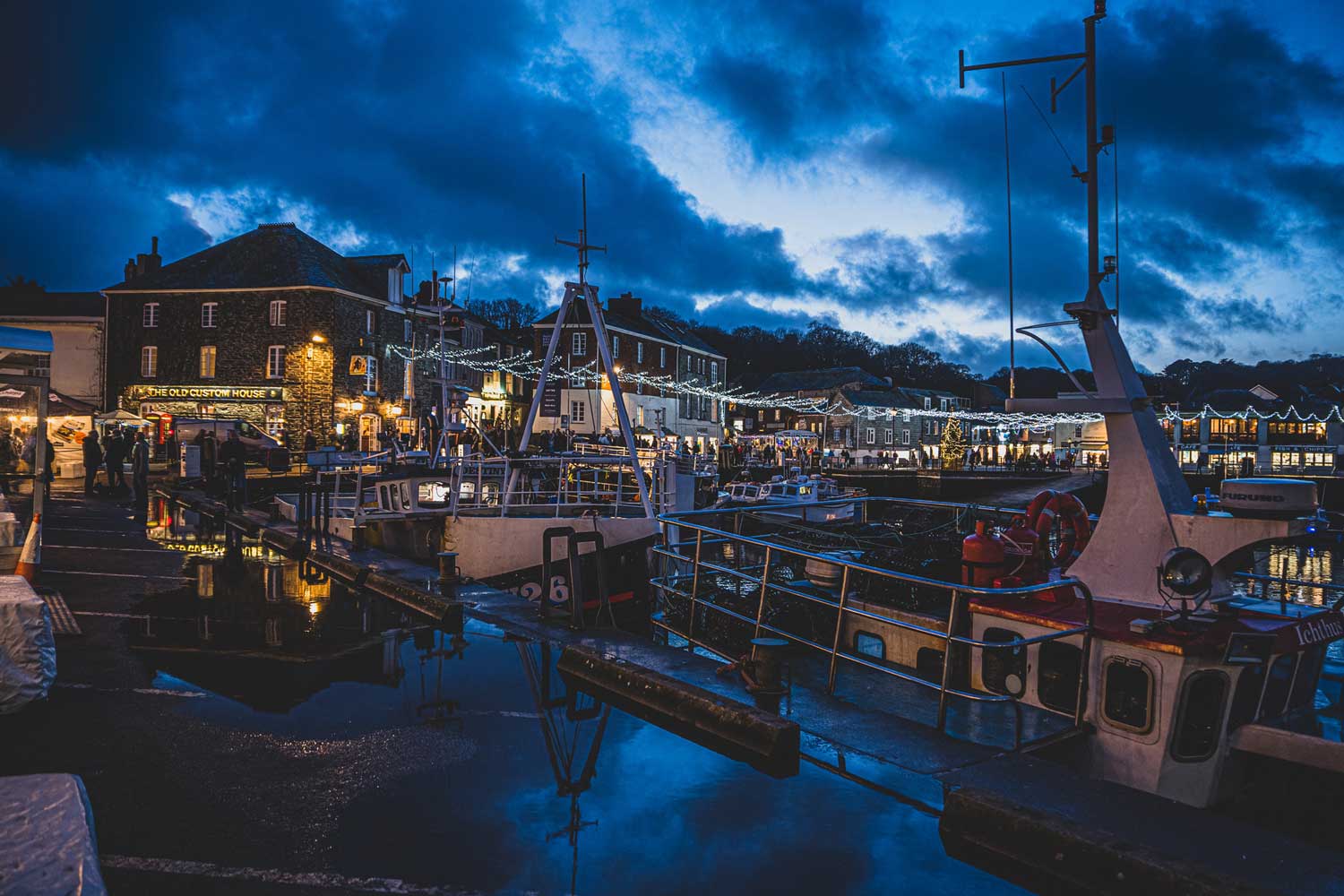 Padstow Christmas Festival
December 1st - 4th 2022
Padstow Christmas Festival is back! It's been a long few years, but we couldn't be more excited to see you all again this December. From Thursday 1 to Sunday 4, join us for a weekend of fun and foodie-filled festivities. Tickets are on sale now, visit the Buy Tickets page to secure yours.
Not been yet? Well in our mind, this is a Cornwall Christmas Festival like no other - Padstow is decorated in lights, there's a Christmas Market packed with local Cornish producers, from food and drink to arts and craft, and the town becomes a foodie hub, with some of the best chefs around plying their trade in the Sharp's Chefs' Theatre... It really is a festive weekend you can not miss. 
We really are so excited to be back and this year we've got so much for you to get excited about too. Make your way into the Christmas Market and you'll find our sampling stand featuring our all new Cold River Cider, as well as Chalky's Bite, a beer we brewed in collaboration with Rick Stein that's now claimed more awards than any other beer in our portfolio. This is your chance to try any of our beers on offer or just have chat to the Sharp's team who'll be on hand to answer your burning beery questions. 
Liked what you tried? Head to the Sharp's retail stand to grab a few beers for yourself, or pick up a gift for that friend who deserves it (18+ only). Again this stand will be looked after by the Sharp's team so if you have any questions, from brewing trivia to local stockists, make sure you say hello!
We're also delighted to be bringing the Sharp's Silent Bistro to this year's festival, a beer, food and music experience like no other. We recently took the Silent Bistro to Camp Bestival Dorset and it was epic... We'll let you know how you can grab tickets very soon (watch this space). 
Finally, our very own Ed Hughes (Sharp's Beer Sommelier Extraordinaire), will be joined by Paul Ainsworth's Mariner's team in the Sharp's Chef's Theatre, for a mouth-watering beer and food demo. It's on Saturday 3rd December at 13:45, so make sure we see you there!
Feeling festive yet?
WHAT TO EXPECT
AT THIS YEAR'S FESTIVAL