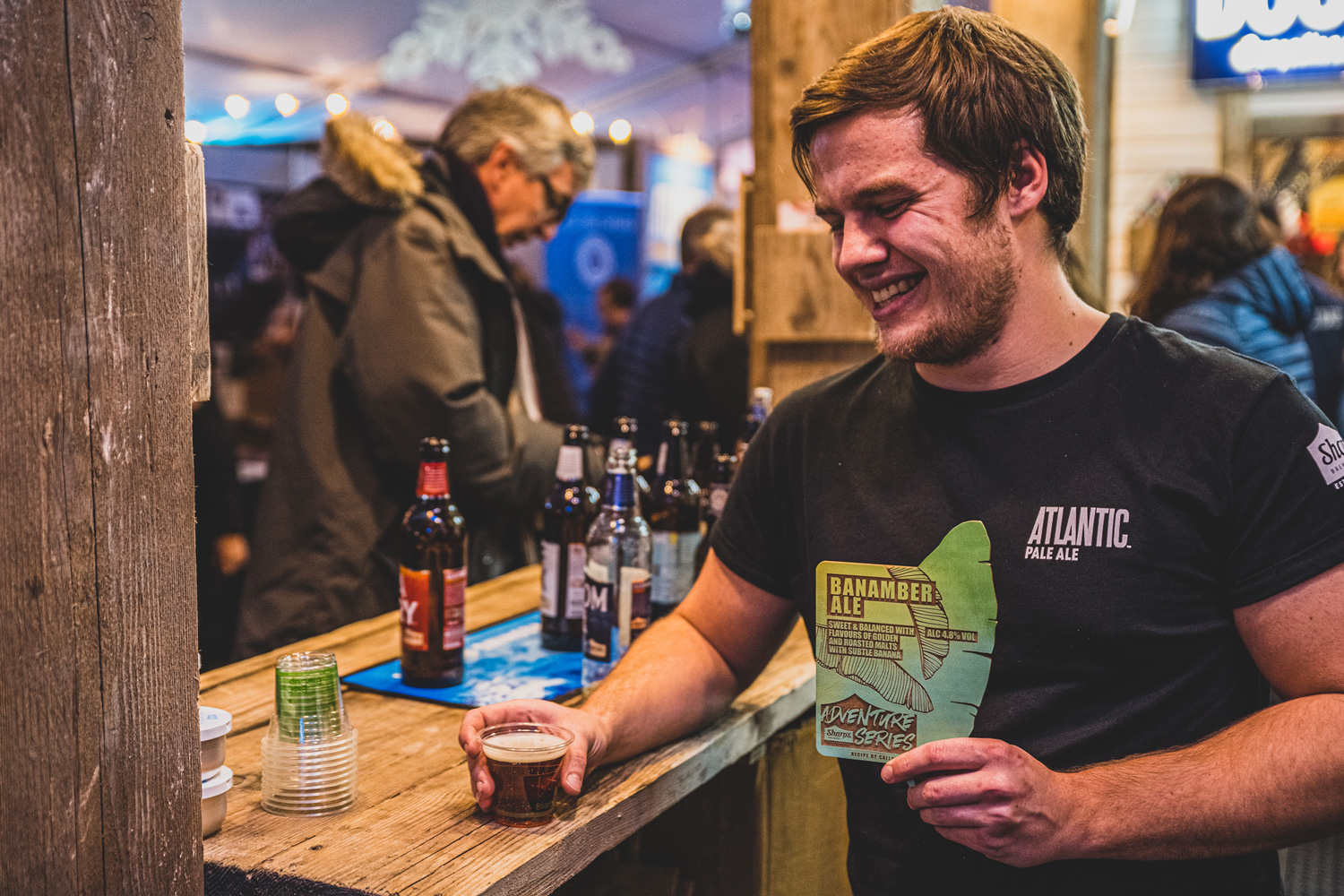 CELEBRATING OUR APPRENTICES
NATIONAL APPRENTICESHIP WEEK 2022
We're proud to remain fully committed to investing in developing our people at the site here in Rock, Cornwall. Apprentices are key to our talent planning, helping improve Sharp's range of existing skills as well as building skills for the future.
For this reason, we've been training up the next generation of brewery talent through a number of key Cornwall-based apprenticeships with two previous apprentices now full-time team members. In addition, the brewery has just completed recruitment for a second brewing apprenticeship, starting in May 2022.

National Apprenticeship Week 2022 takes place from 7th - 13th February 2022, celebrating apprenticeships and bringing the whole 'apprenticeship' community together. The brewery team in Cornwall has seen first-hand the positive impact that apprenticeships can have on the business and the benefits to the individuals themselves and the wider economy.

In a true success story, Sharp's former engineering apprentice, Will Purdy, was offered a full-time engineering role in 2020, after having successfully exceeded the standard required for this promotion. Will started his engineering apprenticeship in 2016 with little to no engineering experience but through the scheme, he has gained knowledge and experience to set him up for a career in engineering in multiple skills including PLCs, mechanical principles and electrical installation and fault finding.
Another former apprentice who now has a full-time position here at Sharp's Brewery is Callum White. Callum completed his brewing apprenticeship with his final assessment just last month. He has received his 'Brewing Apprenticeship' through HIT and has also been awarded his General Certificate in Brewing through the IBD (The Institute of Brewing and Distilling). Callum's technical and process knowledge developed so substantially throughout the apprenticeship programme that he has now been positioned as a deputy team leader, taking on increasingly more responsibility and developing his people management skills.

Although being a relatively new introduction to the industry, the HIT brewing apprenticeship has become a highly regarded qualification in the industry and uniquely builds technical knowledge, hands-on practical skills and site-specific understanding, resulting in a well-rounded professional brewer. The apprenticeship programme provides the opportunity for brewers to progress into many future brewing roles, such as technical brewing, or operations management.

Kacey Breakspear is our current enthusiastic events apprentice. She is progressing really well, despite lockdown decimating the events industry in her first year in the industry. Against all odds, Kacey initially 'pivoted' her training and applied her learning capabilities to alternative areas of the business before the return of events.

Now deputy team leader (former brewing apprentice), Callum White said, "I would recommend anyone looking to build a career, in whatever industry, to take the apprenticeship route if it is available. For me, it has opened many opportunities and enabled me to acquire technical knowledge and skills that I would never get from a typical or more traditional educational setting. I even created my very own beer, called Banamber Ale which was sold at the Padstow Christmas Festival in 2019 - this was really exciting for me. The team at Sharp's have all been so supportive and really nurtured my development, I am really lucky to now have a career in such a renowned company and I have my apprenticeship to thank for my progression."

Aaron McClure, Sharp's head brewer said, "I really see the value of apprenticeships, for both the business and the apprentices themselves. It allows the individual to get a very well-rounded knowledge of the business at all levels. I love working with apprentices and developing people is one of the most rewarding parts of my job. I really enjoy sharing my passion and building the next generation of brewers, as well as recognising that apprentices are also important to other areas of the business."