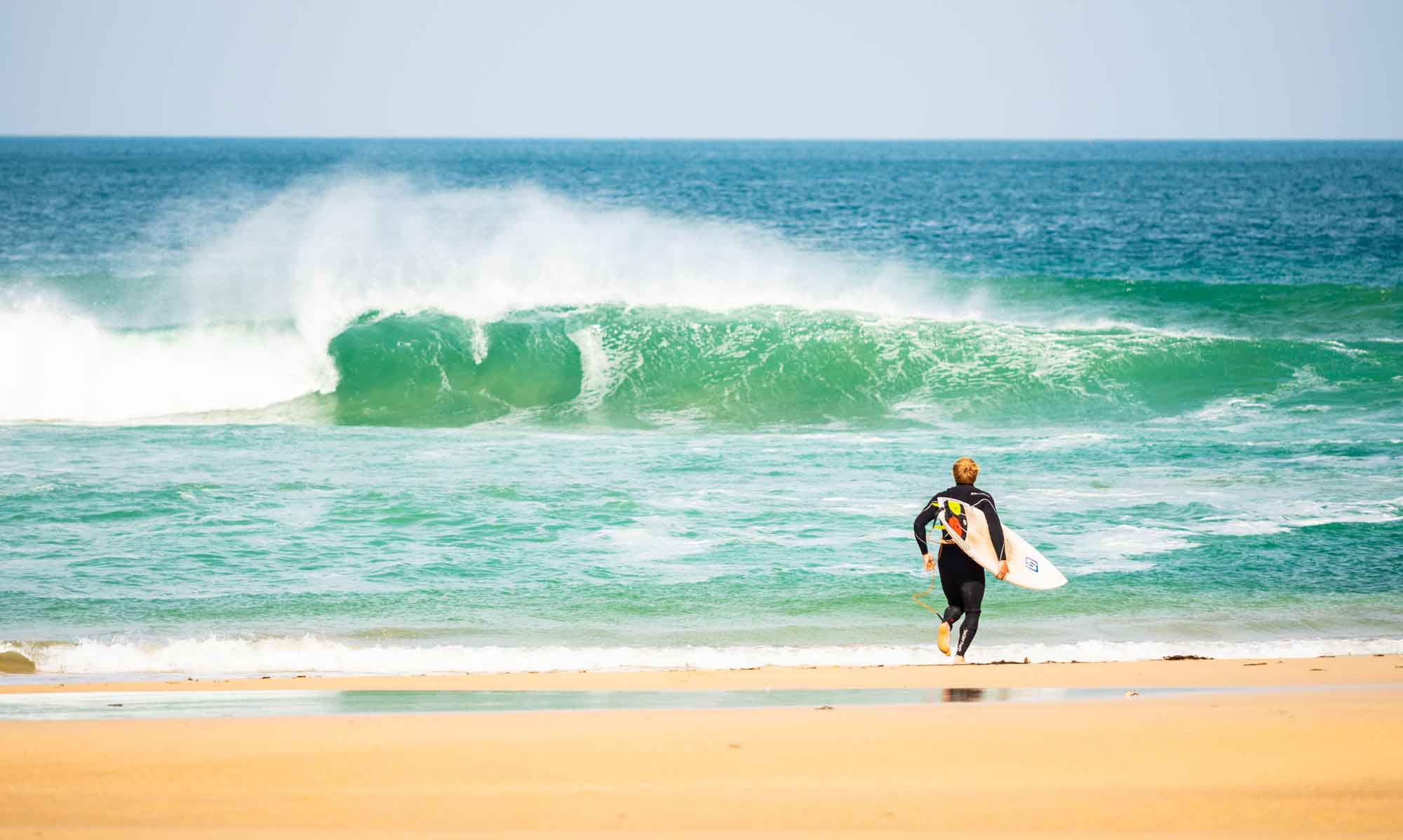 Surf Fit
With Andrew Cotton
Palm trees, stunning sunsets and an icy cold 'Offshore' brew straight out of the cooler; this was what awaited the Devonian Wayne Martin when he won a sought-after spot on Andrew Cotton's Surf Fit Retreat in Nazare, Portugal.
The prize, provided by Cornwall-based Sharp's Brewery to launch its refreshing 'Offshore' Pilsner, included an intensive week of yoga, strength and body conditioning plus ocean preparation and awareness – all essential skills for long-term development in the water.
40 year old Wayne has been surfing for more than 20 years and the Surf Fit Retreat could not have come at a better time for him. Currently working as an Outdoors Activities Instructor, Wayne is ready for new challenges as he's about to take on a new role as an Emergency Care Assistant with the South West Ambulance Trust, meaning his fitness needs to be at an optimum level.
Wayne said enthusiastically, "I actually almost missed the email saying I'd been given the opportunity to travel to Portugal – but I'm very glad I didn't!"
Wayne said, "The retreat was absolutely fantastic. We'd go from 7am to 7pm doing either pool training or intensive gym type work, as well as learning about things like 'hypoxic training' which is all about how you improve your body's performance with you adapting to low oxygen. At some point during the day we'd find time to go for a surf. This differed from a normal surf because of the time spent preparing and we would always stretch and do some deep yoga on the beach, and after we'd surfed, we'd follow up with a 2-minute beach clean."
The Surf Fit Retreat was hosted by two fellow North-Devonians, professional big-wave surfer Andrew 'Cotty' Cotton and fitness coach Andrew Blake, who together have developed a programme that caters to surfers at any level.
Collaborating with a team of global wellbeing, nutrition and training experts and scientists, Cotty has created his bespoke, personalised Surf Fit Retreats. Bringing unprecedented access to the world's most qualified surf fitness coaches and their deep pool of knowledge and methods, the week-long retreats deliver psychological and physical training techniques to dedicated surfers at all abilities and all levels of confidence. You can check out the Surf Fit Instagram @surf_fit_life to see what goes on during the retreats themselves.
Cotty recently topped the headlines when he broke his back in a death-defying fall surfing Nazare in November 2017. Footage of this led him to win the title 'Wipeout of The Year' in the recognised Big Wave-awards hosted by World Surf League in Los Angeles, just a couple of weeks ago. As a result, Cotty has a crystal clear focus on making a full, and swift, recovery and aims to be back surfing the big waves by the end of this year.
Cotty said, "Surf Fit is all about making you more comfortable in the ocean so that you can take your surfing to the next level, and to make the most of all surf conditions, especially when it goes offshore. No matter what level you are starting out at, our specialist Surf Fit team will provide our guests with targeted support to increase their personal confidence and performance. Whether they're aiming to paddle into 3 feet or 30 feet, what Wayne and the guys learned within this packed week will improve their general and surf specific fitness with long term results and benefits. And as I think Wayne agrees, those benefits will spill over into their everyday life in ways they couldn't have imagined."
Wayne said, "Having the opportunity to meet with Cotty and the personal trainers was just amazing. It had been a while since I'd been in the water and it was great to get all the focused and intensive training during the week. It was a packed schedule and there's so much to it in terms of detailed inner and outer body training, as well as mindfulness and attitude. To get this directly from these professional athletes and trainers is invaluable and I plan to use everything that the guys have taught me both in the surf, and in my new career."
Wayne continues, "It was great to meet everyone who was on the course and go through all of this together. We all had a lovely meal at the end with the sun going down at the beach behind us, and of course we enjoyed a few of Sharp's Brewery's Offshores. It was so memorable and a great adventure in personal fitness."
Every surfer knows that there's nothing quite like it when those rare moments occur, when the wind turns offshore, creating perfectly clean waves. And to honour that feeling, and their passion for surfing, the team at Cornwall-based Sharp's Brewery has created 'Offshore', a refreshing, invigorating Pilsner, inspired by the coastal breaks around the Cornish coast.