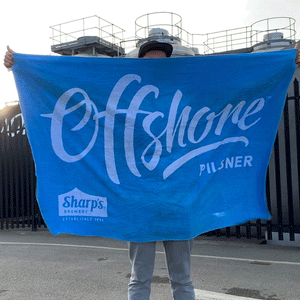 SHARP'S OFFSHORE PILSNER
BEACH TOWEL
 Get beach ready with this Offshore Pilsner Towel. 
All prices include delivery. 

STORY
Offshore Pilsner was born on the rugged north coast of Cornwall, where hardy surfers seize rare moments to catch perfect waves when the wind turns offshore.

Like the feeling of sea spray on your face, the bracing refreshment of a cool Offshore reminds us to be alive to the moment – to grab opportunities for good times with good friends when perfect conditions come together.

Like the surfers' looking out from the shore, our brewers search for perfection in the balance of continental hops and Czech yeast in Offshore, which gives our pilsner a super clean, uniquely refreshing taste. As satisfying as that perfect wave…. well almost.
DELIVERY
Usually delivered within 5 – 7 working days.