PINOT NOIR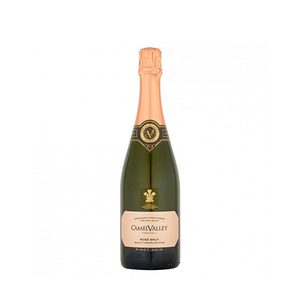 Camel Valley Pinot Noir Rosé Brut
750ml Bottle
12.5% ABV
Really individual English style in the best possible way. Characteristic aromas of wild strawberries and raspberries, very well balanced with a pure, refreshing finish. Mouth-watering.
All prices include delivery. 
STORY
A second generation winemaker is hard at work at Camel Valley. Sam Lindo, a maths graduate who had seemed destined for a career in the city, instead decided to make his life in Cornwall and returned to the family farm, where he had grown up, in 2002. The grapes for the Cornwall Brut are crushed to retain more of the fruit characters that are unique to grapes grown in England. Only the free-run juice is used for the sparkling wine with the pressed juice going to still wine. The juice is cooled to 4°C to retain the delicate fruit aromas. The ferment temperature is only allowed to rise to 13°C resulting in more fruit character in the base wine. This wine has spent up to 24 months on the lees for fruit freshness and resulting in a fresh yeasty character. A fresh and fruity fizz, perfect for all celebrations. With English hedgerow scents, citrus character and a touch of honey on the palate.
AWARDS
2019 – Bollicini Del Mondo World Champion for 2016 Vintage
2019 -4 x Gold medal Winning 2016 Pinot Noir Rose Brut
2017 Champagne & Sparkling Wine World Championships Gold Medal for 2014 vintage
2016 Champagne & Sparkling Wine World Championships Gold Medal for 2013 vintage
2015 IWC Gold Medal for 2013 vintage
2014 IWC English Sparkling Rose Trophy for 2012 vintage
2014 IWC Gold Medal for 2012 vintage
2014 UKVA Trophy for Best English Sparkling Rose for 2012 vintage
2014 UKVA Gold Medal Winner for 2012 vintage
2014 Gold Medal Winner Tom Stevenson CSWWC for 2009 vintage
2010 Bollicini Del Mondo Best Sparkling Rose in the World for 2008 vintage
DELIVERY
Due to Covid -19, deliveries are currently taking up to 7-10 working days. We'll do all we can to get your delivery dispatched as quickly as possible.