VODKA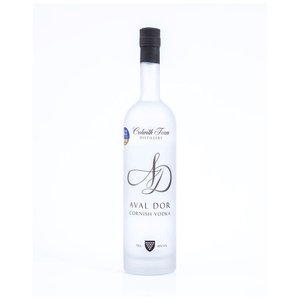 Colwith Farm Distillery Cornish Potato Vodka
70cl Bottle
40% ABV
This delicious Cornish vodka has recently won the prestigious DOUBLE GOLD MEDAL in the 2020 San Francisco World's Best Vodka awards.
Crafted in small batches from their delicious Cornish potatoes, this vodka is distilled forty-times before being blended with mineral water lifted from the distillery's aquifer.
Aval Dor Cornish Vodka is soft & clean with sweet, creamy vanilla undertones. Perfect served neat on ice or in your favourite cocktail.
All prices include delivery. 
STORY
Whereas most distilleries buy-in mass produced ethanol, at Colwith Farm Distillery, everything is delicately produced from scratch, on a single estate. In terms of provenance, authenticity and quality, put simply, it doesn't get any better.
Our crops are are grown within a few miles of the distillery. Thereafter, every step of the production process is delicately carried out in-house.
From preparing the wash, fermenting, distilling, rectifying and finally bottling. Even the water used in the production process rises from an aquifer situated beneath the distillery. It is much more challenging, time consuming and costly to produce spirits this way - but we truly believe it's worth it.
HOW TO DRINK
We love this premium Vodka with a slice of lemon, regular tonic and cracked black pepper!
DELIVERY
Due to Covid -19, deliveries are currently taking up to 7-10 working days. We'll do all we can to get your delivery dispatched as quickly as possible.